First Week Back: Musings from the Premier League's Return
June 22, 2020
The Premier League has made its long-awaited return to action after three months on the sidelines due to the COVID-19 pandemic. And, true to form, just as quickly as players took the pitch again, refereeing talking points took centre stage too. Here are a selection from the past week.
Goal Line Technology
Let's get this one out of the way first. You don't need me to tell you that the ball was over the line in Aston Villa v Sheffield United, but let's not gloss over just how momentous this one moment is for football. GLT was infallible up until now. But going forward, you can bet that no referee will be taken seriously when they start pointing at their watch after a close goal-line decision. Let's go over some of the quick points from this epic failure of a once-faultless piece of technology.
Michael Oliver
I've seen some incredible tweets laying the blame at the feet of referee Michael Oliver, which is just utterly flabbergasting. The centre referee has never, ever been the authority on goal-line decisions, pre- or post-GLT, and there's absolutely no reason he should take the fall for this one. GLT has worked perfectly for countless professional matches for several years – Oliver can only assume that the signal he was getting was correct.
Can/should VAR have done something?
Clearly they should have intervened in some way, shape, or form, but again, I can only assume that the unwavering trust in the GLT technology probably meant that VAR Paul Tierney didn't bother checking anything on the replay, which, in all fairness, I can't really blame him for. It will be interesting if goal-line decisions are something VARs will be told to double-check in the future.
So why did the system fail?
I've heard some rumblings that there were players blocking all seven of the goal-line cameras that GLT uses to calculate its decisions, which I think is complete bullshit. Those systems are way too expensive to install for there to be such an easy way to render them ineffective. I think the more likely scenario is that someone screwed up when calibrating the technology in the pregame preparations. Especially considering it was the first game back in three months, and the very likely possibility of different protocols in place because of COVID, I can't really see any other plausible explanation.
VAR finally gets it right for once
Okay, now that that's out of the way, let's switch course and praise VAR for once in the Premier League. I was completely blown away when Jon Moss pointed to the penalty spot for the second time in Tottenham v Man United, but pleased to see the VAR wasn't asleep at the wheel. I still wish referees used the monitor and not rely blindly on the info coming through their earpiece, but the correct call is what matters and on this play, they got it right.
Fourth officials
I've noticed a few differences in the way fourth officials are operating in the age of COVID. First, they are now wearing masks, which is pretty straightforward. However, I've noticed that they are sometimes no longer holding up the electronic boards for substitutions – that responsibility is on occasion now falling to a team official for each side. I can only imagine this is a COVID-related measure, although if they're not doing it all the time, not to mention they do still seem to be holding the boards up to indicate stoppage time at the end of each half…what's the point?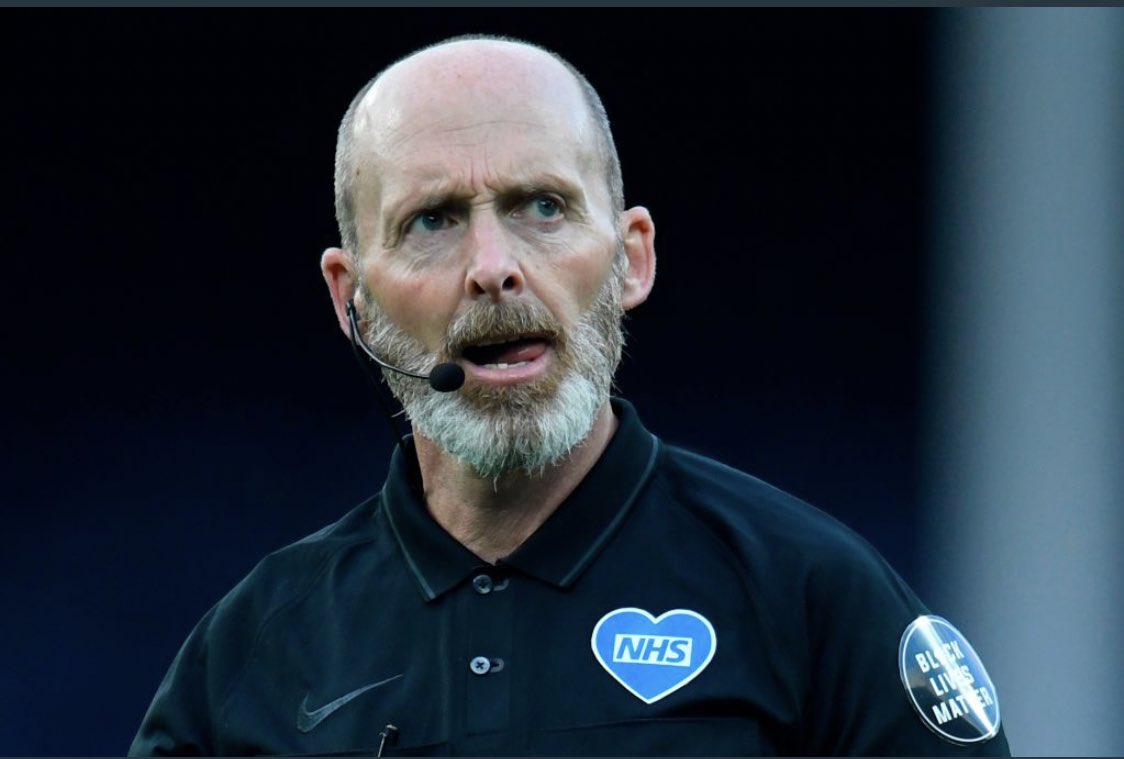 Mike Dean
There are really no words needed for this one. Sir Mike doesn't referee Liverpool or Everton often, but when he does, he finds a way to make it memorable.